Town Hall & Water Tower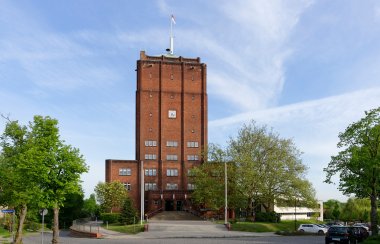 Neuenhagen's Town Hall, with its combination of water tower and the seat of the municipal administration is and architectural rarity in Germany. It was built in 1925/26 on the former Mühlenberg Hill (60 meters high) according to a design by Berlin's city surveyor Wilhelm Wagner. With its expressionist brick façade, it stretches to a height of almost 42 meters. The water tank is housed in the upper part of the middle tower, with its area of 11 by 11 meters, which is flanked by two wings. In addition to offices for the municipal administration, the building originally also contained four apartments for officials, and a restaurant in the basement, the Ratskeller.
The heart of the building is the council chamber; finished in Bauhaus style, it is painted all the way around in horizontal stripes approximately one meter wide in colors ranging from reddish brown to bright yellow. In 2001, it was named in honor of former Neuenhagen town leader Max Thormann, who was in office when the town hall was built. During an extensive refurbishment of the historical town hall between 1996 and 2001, the chamber was restored to all its former glory.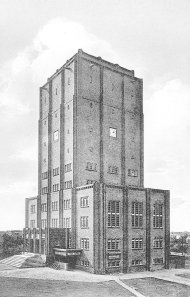 The overall effect is rounded out by hand-made stained glass windows made of Goethe (restoration) glass. They had been removed sometime in the 1950s and disappeared. Three of them have been reconstructed according to the original designs, giving the room its character. The upper part of the building is home to the water tank, with a capacity of 1,000 cubic meters, although it has been empty since 1994. A staircase runs along the reinforced concrete shell, leading to an observation deck 40 meters in the air. From there, visitors have a magnificent view, stretching toward Berlin and far into the surrounding Brandenburg countryside. The Town Hall is the city's landmark and is depicted, among other places, on its coat of arms. The modern town hall was inaugurated in 2011.

Translated by Rebecca M. Stuart