Open Air Pool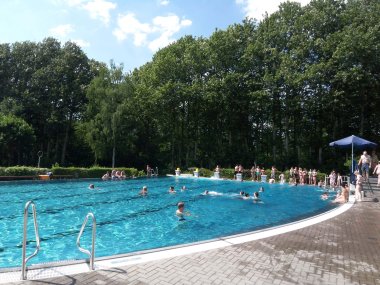 In the summer months, Neuenhagen's open air Swimming Pool is a center of attraction for locals and people from across the region. It sits on an idyllic spot in the middle of a nature preserve, yet conveniently close to the commuter rail (S Bahn) station.

There is a lap pool with five lanes, a family pool, and a kiddy pool – all of stainless steel, providing fun for everyone. A major attraction for young and old is the 40-meter long water slide.

The complex has large lawns, perfect for sunbathing or a bit of rest. A beach volleyball court at the edge of the pool beckons the more athletically inclined, while the littlest swimmers can enjoy the playground. The pool's snack bar offers a variety of yummy treats and refreshing drinks. The open air pool complex also has changing rooms, a diaper changing room, and an accessible toilet.
Contact: +49 3342 202943
Parking spaces directly at the pool are limited. There is plenty of free parking at the nearby P+R parking lot at the Neuenhagen S Bahn station (on Wiesenstrasse). From there, it is about a five­minute walk via the Goetheweg to the pool.
May 15 – May 31: Tues – Sun 9:00 am to 6:00 pm
June 1 – June 15: Tues – Sun 9:00 am to 7:00 pm
June 16 – August 31: Tues – Sun 9:00 am to 8:00 pm 

September 1 – September 13: Tues – Sun 9:00 am to 6:00 pm