Bürgerhaus Neuenhagen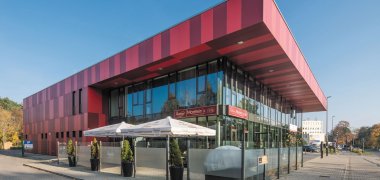 The Bürgerhaus Neuenhagen community center in particular has something to offer for people of all ages and interests. It is a modern cultural hub funded by the municipality of Neuenhagen bei Berlin. The heart of the building is a hall that holds up to 500 people. There are also an additional four meeting and conference rooms. Visitors to the Bürgerhaus can look forward to concerts ranging from pop to classical, plays, dance performances, readings – and much more. Artists from near and far regularly mount guest shows in the main hall, which is outfitted with the latest in event equipment.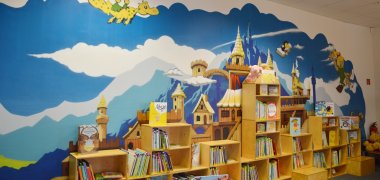 The building also houses the Anna Ditzen Library. With holdings of more than 40,000  different books and other media on three floors, it is the largest library in the county. The library staff feels a special bond with the literary legacy of the community's best-known resident, Hans Fallada, and regularly organizes events to bring library patrons closer to his work. The library also mounts a full range of events about books for young and old, and regularly hosts art exhibitions.
Morstein's Restaurant in the Bürgerhaus is the site for epicures to enjoy culinary creations. And in the basement, you'll find a four-lane bowling alley for the whole family to enjoy.
---
The Bürgerhaus is centrally located in the town center (parking behind the building), and can easily be reached if you are travelling on public transportation, with a five minute walk from the Neuenhagen commuter rail station.

The Bürgerhaus community center is accessible.
Translated by Rebecca M. Stuart