Schlenderhan Racing Stable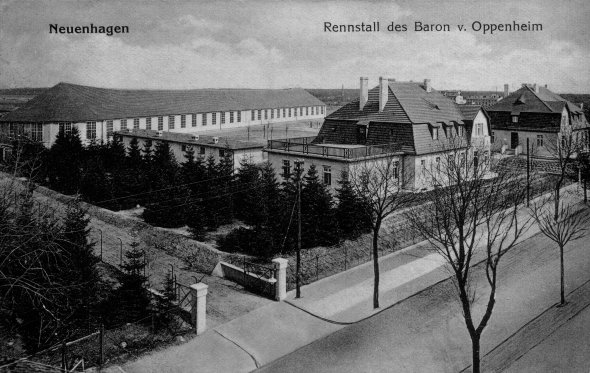 The Schlenderhan racing stable was one of three large horse training facilities in Neuenhagen.
It was built on the former Königsallee by Baron Simon Alfred von Oppenheim, an extremely wealthy banker from Cologne, who was a successful thoroughbred breeder. Beginning in 1913, two residences were built here to house the stable hands, grooms, and the trainer. Behind them is the 120-meter-long stable, a covered oval riding track with a total length of 274 meters and 25 stalls in the center, a foaling and sick pen, a tack room, and the smithy. In front of the stables is a training ring. In 1937, the stable's capacity was expanded with two wooden buildings, each containing 14 stalls. After World War II, the racing stable was turned into a horse hospital. It was later used by the East German Association for Sports and Technology, and then the East German Gymnastics and Sports Federation. Beginning in 1972, the soccer club Bau Union Berlin used the stables. After German unification, it housed the equestrian sports association Historical Riding Stables Neuenhagen. The former residential building was converted into a medical center.
Address: Hauptstrasse/corner of Lahnsteiner Strasse, 15366 Neuenhagen bei Berlin
Translated by Rebecca M. Stuart